Child Of Light PS3+PS4 RPG Game NEW RARE OZI DELUXE Collectors Edition + DLC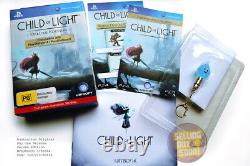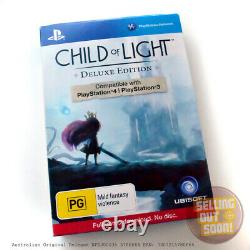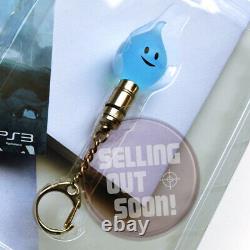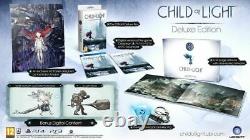 Child Of Light PS3+PS4 RPG Game NEW RARE OZI DELUXE Collectors Edition + DLC. Grab for yourself the SUPER-HOT deal you've been waiting for... PREPACKED before the viral outbreak. Amazing service, from Sydney, Australia. Very Rare Australian version (not an import, no unsightly compliance stickers).
Complete in authentic Australian retail packaging. We supply the original full boxed Deluxe (Collectors) Edition to you. Why settle for just a code in a box? This Deluxe Edition is for both PS4 and PS3 (full game download + DLC + Collectors Edition extras as per below). One of our most popular games on the PS Vita, Child Of Light is a very different, highly rewarding experience with breathtaking visuals and a well-crafted storyline, akin to fairy-tales of old.
It is a refreshing about-turn to the always-on marketability machine, which generally turns out predictability at the cost of that childlike wonder that got us all interested in games in the first place. I'm amazed by Child Of Light. Playing it feels like being a part of something magical. This Australian version of the Deluxe Edition contains chillingly beautiful extras.. Collect this dreamy, and exclusive content, including.
Exclusive A2 poster designed by Yoshitaka Amano, renowned Japanese artist. 24 page art-book with unrevealed artworks, and. Keyring, an ever-present friend who glows in the dark, powered by serendipity - and a strip-sealed inline battery (included). This boxed edition also contains BONUS digital game content: a bonus quest, a new character and a pack of collectibles.
The Dark Queen has stolen the Sun, the Moon and the Stars. Follow the princess Aurora, the daughter of an Austrian duke, in Lemuria in her quest to recapture the three sources of light. Helped by Igniculus the firefly, Capilli and many other friends you will meet, go through the Lemuria Kingdom and fight the dark creatures of the forest and other enemies and defeat the Dark Queen. Child of Light is a playable poem in which you will embody Aurora in her Quest to save the world of Lemuria of the evil Dark Queen and recover the Sun, the Moon and the stars. Complemented with a story carefully crafted in verse and rhyme, the breathtaking scenery of Lemuria is an invitation to explore a long lost world. Created by Ubisoft Montreal using the UbiArt Framework, Child of Light is an RPG inspired by fairy tales. Across your journey through Lemuria you will encounter many eccentric creatures, from spirits of the forest to talking mice to wicked witches and evil sea serpents. Discover a vast land with iconic locations and exciting dungeons that will evolve as Aurora regains the stolen lights. Aurora is the daughter of a duke. Endowed with the power of flight she has the mission to save the Lemuria's world, bringing back Light extinguished by the darkness of the Dark Queen. Igniculus will help Aurora in her Quest to save Lemuria throughout the journey.
It will fly at her side blinding the enemies and finding secret treasures necessary for Aurora's powers. Aurora is transported to Lemuria, a mysterious world that needs her help. Identified as the Child of Light and granted the power of flight, she takes on the minions of Lemuria's Dark Queen in her quest to recover the sun, the moon and the stars to return home. In Child of Light, you dive into a classics Adventure-RPG world. Fighting your enemies in an Active-Time Battle System, you will be able to fight alongside the firefly Igniculus and other members of Aurora's party.
Lead the two heroes of the quest with their own faculties to beat dark monsters between you and the Dark Queen who retains the Sun, the Moon and the Stars of Lemuria. Defeat your enemies using the faculties and abilities of your friends Finn and Igniculus.
Child of Light enables you to lead this quest with your friend with an amazing cooperative multiplayer mode. You and your loved ones will be able to take the control of Aurora and her friend Igniculus. See the dramatic reception this game has received, by both critics and players, on Metacritic. This wonderful game is available in both this version (PS3/PS4) and also a remarkable version for PSVita. Please note: all our items are genuine and supplied in full retail packaging unless otherwise noted -- exactly as the best retailers sell, but without the retail price tag.
Sell official stock because we think you deserve authentic products, not fake copies. We're supporting you with amazing prices on genuine items. In our quest for the best products at simply better prices. Is 100% dedicated to outstanding service.
Because we're authorised dealers in Sydney Australia , you'll always get official stock , from people who care about what they're doing, and who like to. Get things right the first time. Find rare, hand-picked items, offered to you for one last moment, before they stop existing brand-new, forever. Google us for more about how.
For unadvertised specials at the last moment, which are so good that retailers are still scratching their heads wondering what's going to be next. We dispatch from our own highly professional Sydney warehouse, not an overseas unknown! We have worked very hard for our stellar reputation and will treat you how we like to be treated. The item "Child Of Light PS3+PS4 RPG Game NEW RARE OZI DELUXE Collectors Edition + DLC" is in sale since Friday, July 7, 2017. This item is in the category "Video Games & Consoles\Video Games".
The seller is "sellingoutsoon" and is located in Sydney. This item can be shipped worldwide.
Publisher: Ubisoft
Platform: Sony PlayStation 4
Region Code: PAL
MPN: Does Not Apply
Authorised Dealer: Yes (ebay ID must be: sellingoutsoon)
Brand: Ubisoft
Official Product: Yes, only if purchased from sellingoutsoon
Platform (Additional): Sony PlayStation 3 (PS3)
Preferred Seller: Yes, eBay Awarded Powerseller
Premium Logistics: Yes, packed by specialists for safer delivery
Rarity Status: Very Rare (Australian Version only)
UPC: 3307215780664
EAN (Australian Barcode): 3307215780664