Prime Hydration Glow Holo Rare KSI & Logan Paul US IMPORT Dodge Grape 5 Bottles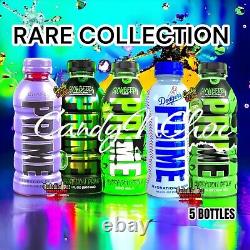 Prime Hydration GLOWBERRY Drink by Logan Paul & KSI. GLOW IN DARK BOTTLE NEW. Please note you are purchasing 5 bottles. 1 x glow holo ultra rare expiry date 09 2024. 1 x glowberry UK rare expiry date 09/2024.
1 x grape discontinued expiry date 06/2024. 1 x dodgers prime expiry date 09/2024. 1 x glow berry rare tear USA expiry date 09/2024. Please note the bottles will be sent out bubble wrapped in a secure packaging. We will inspect the bottle before sending it out to you and they will all be new, sealed.
Please see pictures provided on the listing for ingredients and expiry date. If you require any further information about this product or ingredients or any allergies please message us.