Rare New Vtg Boxed Lacoste Jean Patou Cologne For Men 120ml spray 1970s formula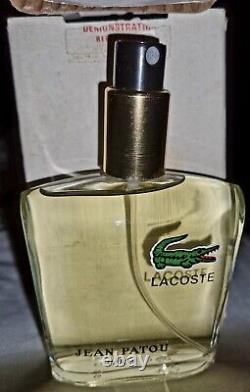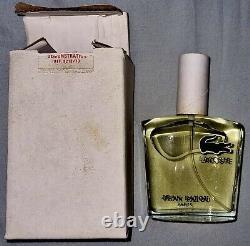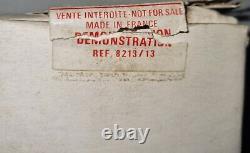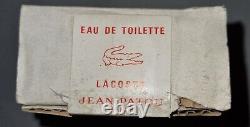 Rare New Vintage Lacoste Jean Patou Cologne For Men 120ml 1970s formulation. Hard to find new, boxed (unsealed) full and unused (sprayed once to confirm this is a natural spray vaporisateur) Lacoste Jean Patou Cologne 120ml demonstration bottle - not Eau de Sport, the original launched in 1967. There is no cap for the bottle, with the sprayer well protected by a cardboard tube.
The alcohol by volume is denoted on the side of the bottle as 90°, not 90%, which suggests this is a 1970s bottle. A wonderful masculine fragrance by Jean Patou for Lacoste, from the nose of master perfumer and later, founder of the Osmotheque, Jean Kerleo.
To me this smells reminiscent (a precursor by 10 years) of vintage Paco Rabanne Pour Homme, but is less spicy and green, with a slightly soapy and musky drydown and longevity of around 7 hours on my skin, with moderate projection and sillage. It is the original incarnation of a sporting scent, one of the first serious fragrances from a sporting goods maker, and is especially suitable for hotter weather. There is a noticeable oakmoss note in the base and the fragrance is as classical in its structure as Chanel's Pour Monsieur or Monsieur de Givenchy, wonderful stuff that established Lacoste's place in the market as a fragrance house in the late 1960s. Patou's influence on Lacoste would be forgotten in 2001, when Proctor & Gamble assumed ownership and promptly discontinued man6 of Lacoste's older scents. Top notes are Basil, Rosemary, Coriander, Lavender, Petitgrain, Lemon and Bergamot; middle notes are Carnation, Patchouli, Vetiver, Clary Sage, Cedar, Geranium, Heliotrope and Cinnamon; base notes are Moss, Ambergris, Musk, Tonka Bean and Vanilla.
Thanks for looking and please take a look at my other rare men's and women's fragrances.